OPPO F1s: Summer Destination
2012. At a tour agency booth in El Nido…
Me:
Ate, baka pwede naman 600 na lang po rent ng kayak?
Ate:
Hindi talaga pwede mam eh, 900 po talaga.
Me:
*while looking sadly at my empty pocket*
Ate, wala na po talaga kaming pera, as in. Pero sobrang gusto namin mag kayak. Please, baka pwede pong 600 na lang?
Thankful that she was very nice and didn't bother to say,
"Miss, wala akong pake."
Maybe she was convinced that I was poor and couldn't afford the kayak! Haha! I didn't lie. It's true that we didn't have any more money to pay for the rental. If she said we can rent it for 700, we will still
not
take it. I can't remember why we were broke that day though, but I'm thinking maybe (a) there were no working ATMs at that time or
(b)
I was very stingy
that I sticked to my budget (that kayak wasn't originally part of the plan anyway).
No regrets.
It was the best Php 600 I spent in Palawan. And like many foreign and local tourists, El Nido has a special place in my heart, for many reasons. Five years have passed and looking back at our photos still gives me that same happiness I had when we were in Palawan.
2017: The Year of Our Return to Palawan
(Because it has always been my favorite summer destination in the Philippines for 3 main reasons)
1. It can easily beat Maldives
While I absolutely love Maldives' atolls, overwater bungalows and sandbars,
I would still go for Palawan for my money's worth
. Afaik, Maldives doesn't have karst mountains, underground river and beautiful lagoons like that of Palawan. Also, food and alcohol, hotels, diving and most water activities are cheaper here!
The beautiful beach before the underground river
2. Its beaches,
lagoons
, island-hopping excursions and even sunsets
are mind-blowing and truly unforgettable
. The kayaking experience in El Nido was also one of the best! The underground river, although overpriced, was also charming especially the beach before the cave's entrance.
⇒Read:
An Independent and Affordable Trip to Maldives
⇐
3.
Palawan is not just about El Nido
, Coron and Puerto - which leads us to the main point of this blogpost, our return to Palawan!
El Nido, 2012
THE PLANNED ROUTE IN A NUTSHELL
➜ WHAT:
Backpack Palawan North-South in 2 Weeks
➜ WHEN:
2nd week of March 2017
➜ WHERE:
Coron - El Nido - San Vicente - Puerto - Balabac
Day 0:
Manila to Coron via
2GO Ferry
(12 hours)
➜
Of course, the Kayangan Lake! After that we'll probably work our itinerary to fit in Malcapuya Island, Twin Lagoons, Barracuda Lake, Coron Bay, Coral Garden, Mt. Tapyas and Maquinit Hot Springs. We will not leave Coron without renting a scooter to check out the off-the-beaten rural areas as well!
Day 4: Fastcraft to El Nido
There were terrible stories of outrigger boats that traverse Coron and El Nido so I hope we can get on a larger and faster boat. That's a 6-8 hour ride in the open sea by the way.
Next 4 days should be in El Nido and San Vicente
➜
Since we've already been to El Nido in 2012, we would skip the island hopping part and just visit Duli Beach for surfing and the famous Twin Beach. We'll probably be in San Vicente on the second half of this leg to explore the area via scooter since a 14km beach sounds like a cool place to ride a scooter. We absolutely love exploring provinces on two wheels!
We also did it in Bali, Vang Vieng, Luang Prabang and Vietnam.
⇒Read:
7 Things We Love About Exploring Vang Vieng, Laos
⇐
Beautiful sunset near our homestay in El Nido, 2012
The remaining days are for Balabac Group of Islands
➜
We're still looking for resources on how to backpack Balabac the cheapest way possible. I've already tried to contact tour operators recently and they want to charge 7000php/pax for 3D2N, full board with island hopping. It's too much for the two of us so we might just decide once we are already there!
Day 12: Puerto Princesa to Manila via Air Asia flight
I suppose many will think that it's a waste of money or that we could just do an international trip or just backpack the whole central Visayas instead of this one. I also had the same thought!
But South Palawan is the game-changer!


5 PHOTOGENIC AND SCENIC SPOTS IN THIS ROUTE
I already have my favorites!
Also, since this trip is yet to happen, the following photos were from Google images


"Into the Green Zone" this photo by George Tapan won the 2011 National Geographic Photo Contest. I've seen photos of Onuk island and it's equally magical when it's sunny. I hope we can secure the right permit to enter the island :(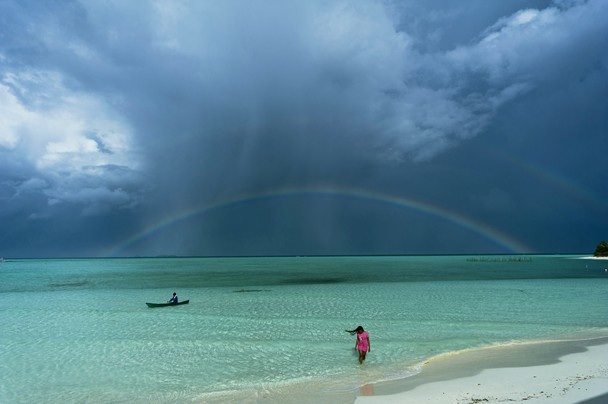 (photo from GMA News website)
Candaraman Island, also in Balabac
I checked Balabac Group of Islands via Google Earth and they look like Maldives! So I have to see it myself. Based from this photo, seems legit!
(photo from taraletsanywhere.com website)
San Vicente and the longest beach in the Philippines
14.2 kilometres of white sand beach my friends! It is three times longer than the white sand beach of Boracay and its beachfront is being converted into an emerging tourist destination. Since most tourists skip San Vicente, I hope to experience the raw beauty of this side of Palawan.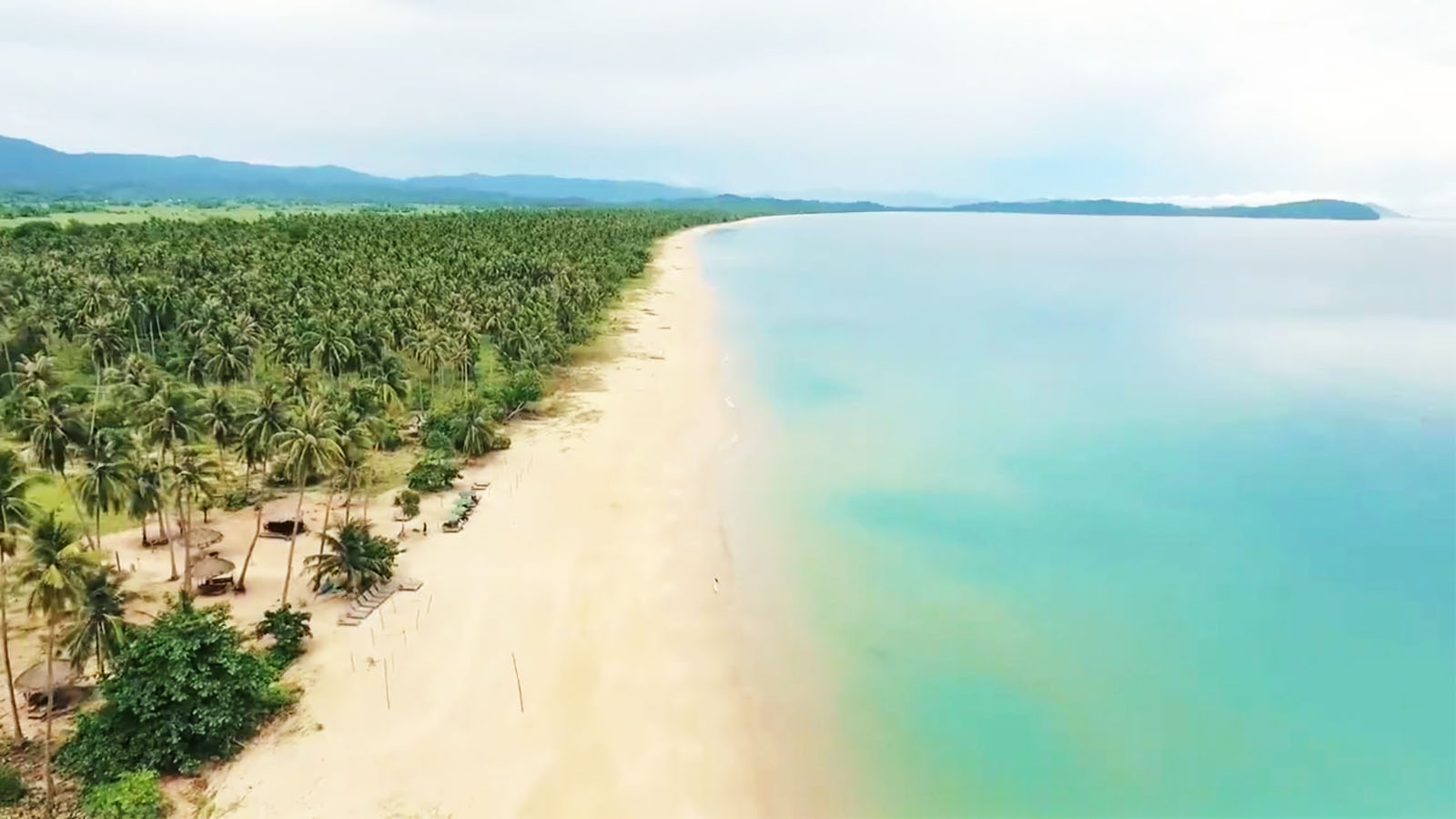 (photo from philippinebeaches.org website)
Duli Beach for the surfing
I don't surf, because I can't swim. But if I can, I would! We're going to Duli Beach for the surfing (because Kalash loves beaches with surf spots). I'd love to watch the locals surf too!
Sunset sessions in El Nido
Undoubtedly, one of the best in the world!
GREAT ADVENTURES ARE BETTER WITH GREAT PHOTOS
Adventure, travel and photography go hand in hand so here's a short list of our go-to gadgets when we travel. It's super konte compared to others. Also no drone, because poor. We pack light and prefer to get rid of check-in bags, I love anything lightweight :)
Action Camera + Mini tripod
Our good ol' friend, GoPro 3. It's probably one of the best purchases we had. It'll turn 4y/o this year but it's still as good as it was 4 years ago. The battery is still good and its waterproofing case still works perfectly. I'm not considering any upgrade on this one because it still performs and does its job! Also, it's going to be our first time to use this mini tripod with the GoPro. I hope it will give our photos a new perspective!
Mirrorless Camera + Prime Lens
I initially thought that the Sony A7 was overpriced but after seeing the quality of its photos and videos, I was convinced that it's worth our money. Its screen is movable that's best for top-down shots. Also, unlike our old SLR, it has wifi and NFC that makes file transfer work like a breeze! I can easily edit our photos in my phone.
Smartphone with good camera and features
Been using my smartphone for 3 years already so I'm already considering an upgrade! Because I love traveling on, I'd love to have a phone that will suit my needs. Looks like the
OPPO F1s
is a good choice for travelers for these features:
✔

It looks chic, lightweight and doesn't look shabby
for the price. Gotta love the rose gold finish!
✔

3G RAM -
Without a doubt, this phone will perform smoothly with all these Droid apps I run all at the same time while on the road:
-
Gadget-specific Apps
- Sony Playmemories, GoPro
-
Photo-editing Apps -
VSCO, Snapseed, Piclab, Instagram, Pixlr
-
Navigation Apps -
Google Maps + GPS
-
Entertainment -
YouTube, Spotify
-
Movie Player to watch my Korean Novela
(also to annoy Kalash)
✔
Its front camera uses
1 / 3.1-inch sensor + F/2.0 aperture.
This means that the sensor allows more light so we can take
better selfies even in low-light
. I wonder if it can take good photos of fireflies in Punta Sebaring, Palawan
✔
That
Selfie Panorama
feature! With OPPO F1s, I can take our selfies with a great background like that of lagoons and beaches of Palawan. F1s automatically stitches the photos together to make sure everything gets in the shot.
✔
The
13mp sports rear camera
is perfect for night shots since imaging chip give pictures a vivid depth and details for capturing clear and detailed photos. If it's good in low-light, I'm sure it will also work well for beach photos, island-hopping, food porn pics on daylight.
✔

Touch Access -
since my old phone didn't have a fingerprint sensor, this one's a good feature to look into for an upgrade
For sure,

OPPOF1s

is a perfect phone for everyone who loves to travel and take photos. Definitely
a great phone for its price tag!
Lightweight Laptop
My HP 13" laptop is the recent addition to the gadget apocalypse. I realized that I already needed a laptop for blogging and file storage. I bought it for only 11K, super sulit! Not so snappy compared to my Macbook but works fine for my needs :)
GRATEFUL UP UNTIL NOW
Palawan has a charm that thrilled and humbled me at the same time. Back in 2012, we met many locals who showed genuine kindness and warmth, including of course the
ate
who allowed us to rent the kayak for 600 pesos. Tourists may be awed by the beauty of this province but it will not be the world's best island if not for the locals who work hard to make every visitor's vacation experience truly memorable. For years, Palawan has kept such good reputation for being the most beautiful island - something that makes me proud to be Filipino; And for that,
I will always CHOOSE PHILIPPINES
.
That's it! Please stay tuned for my blog posts on
2nd week of March
about our RETURN to Palawan,
CORON - BALABAC TRAVERSE!
By the way, I've just booked a plane ticket to Puerto, so
tuloy na tuloy na 'to, mga bes!!!
P.S.
This blog post is an entry for Nuffnang's summer destination contest :)